Shifu Waters & Wú Yǐng Quán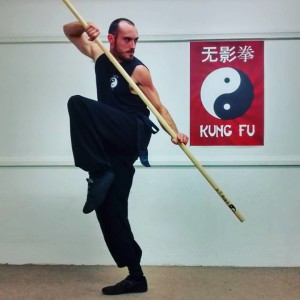 About Shifu James Waters
I began my journey into martial arts & esoteric energy 18 years ago, studying a Korean family style martial art – Gu Fu – I became hooked! I went on to study other traditional oriental martial arts such as Aikido and Wing Chun, as well as contemporary free style Karate and Kickboxing. My quest for further knowledge led me to China where I studied Shaolin Kung Fu and began to develop a deeper understanding of internal Kung Fu and Qi energy.
It was while studying in China, a wise Master and Doctor of Chinese Medicine told me a good martial artist should also know how to heal a person. From that point I diversified my studies into the field of holistic therapy.
In 2012 I founded Wú Yǐng Quán School Of Kung Fu, which has grown to offer both adult and children's Kung Fu classes, as well as dedicated Meditation and Yoga classes, private classes and personal fitness training. As a qualified Holistic Therapist I am also pleased to offer a range of therapies, which are beneficial for many conditions. 
In 2016 I formed The Energy Collective, a group of energy & body workers, with whom I travel to various festivals and live events in the UK & Europe, with our mobile healing space and chill-out tent, providing healing therapies & Qi Gong workshops.
Having spent 10 years working in the UK's private security sector I bring practical, real life scenarios to the training hall and although teaching others, I will always consider myself a student of martial arts.
Thank you for visiting and if you have any questions, please feel free to get in touch via the contact page.
Train hard with a pure heart,
Shifu J Waters