Adults Wú Yǐng Quán Kung Fu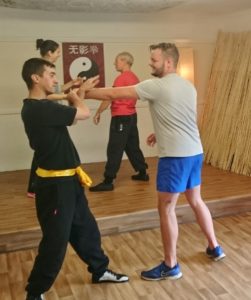 In our adult Kung Fu classes students study traditional Shaolin fist & weapon forms, Chin Na (seize & control) applications, hand trapping and other traditional fighting styles, as well as SanDa kickboxing and contemporary self-defense methods. Students are also offered the opportunity to learn Qi Gong meditation and body conditioning.
Adult Kung Fu classes are on Tuesdays & Thursdays at 7pm for an hour and half, priced at £7.
Saturday classes are at 11am for 1 hour, priced at £5. Contact sparing is held fortnightly following Kung Fu.